If you follow the news in the entertainment industry, you've probably heard all about Britney Spears' 500.000$ deal for product placement in her new video, 'Hold it against me'. If not, I'm going to tell you a little bit about it.
Britney's highly controversial video was launched in the middle of February and it features brands like Sony, Make Up For Ever, PlentyofFish and the pop star's own fragrance, Radiance. She presumably cashed out around a half million dollars for this 'endorsement'. That raised some questions in the music and entertainment industry. For instance, is it wrong to advertise different products through your music video?
Fellow singer, Katy Perry, stated that she has done it before and that there is no shame in using product placement to earn an extra buck from your music if it's done "with style & grace".
And she may be right. As music sales are dropping due to the free content available online, artists have to resort to new and innovative ways of making money. The most efficient way of earning money from music at this point is by touring and even then record labels have to take their share. So, if the opportunity arises and companies seize it is it really that wrong?
Although this technique is in no way new, in the last couple of years there seems to have been an increase of product placements in music videos. Another popular clip was Lady Gaga's 'Telephone' which manages to advertise at least 10 products within 9 minutes (that must be a record!)
Last in the list of recent popular videos is Eminem and Rihanna's 'Love the way you lie' which advertises Stolichnaya vodka in several shots throughout the clip.
But, you'll ask, isn't this what pop music is all about? What's POPular? Yes, it is, but you have to ask yourself, with this celebrity culture taking over everything, how do products actually get popular if not through endorsements. In our PR coursework, when we have to come up with an advert or a way of raising awareness for something, we're always told to keep away from celebrity endorsements. That's for people who can't be creative, as a last resort. But isn't this way of endorsing as creative as any other ad? And is this new way of niche marketing the future?
As we spoke about pop music before, I feel obliged to inform you that this is not only happening with Britney, Katy or Gaga's videos. Fall Out Boy's 'Thnks fr th Mmrs' (Thanks for the Memories, 2004) is filled with product placement too. Nokia, Chevrolet and Tag were the three brands to appear in this emo punk band's video.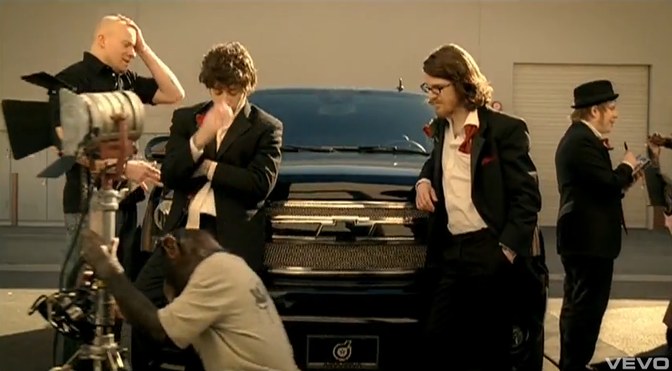 In 2007, finnish alternative and 'love metal' band, HIM advertised the Nokia 3250 in their 'Killing Loneliness' video. In the clip, friend of the band, Kat Von D (tattoo artist known for her reality show called LA ink) is giving a tattoo to Ville Valo, the lead singer and frontman of HIM. And isn't that advertising too?
Up to some point there may always be advertising in music videos. From the instruments the band uses to their clothes, they could actually be seen as a walking commercial. But that's taking it a bit too far, like Jonas Akerlung did with both Lady Gaga and Britney's videos.
In PR we have a game we love to play, it's called 'spot which news stories come from press releases' and that's what's probably happening in the advertising world with music videos. How many products can YOU spot in Gaga's video? – It's like a shopping channel without the phone number at the bottom, more than a music video, really.
Fans have two choices here. They can either support their favorite bands and artists or criticize them on selling out. However, I doubt that any Gaga or Spears fan would criticize them for product placement; this way they may actually feel involved, learning about their artist's preferences. Britney's video certainly made quite the splash and in the entertainment industry not even bad publicity is always damaging. So, in that case, isn't buzz what it's all about? And what would you think about your favorite artist or band using product placement?